08 April 2017 | 10:51 pm
8Days #1382
1. Cover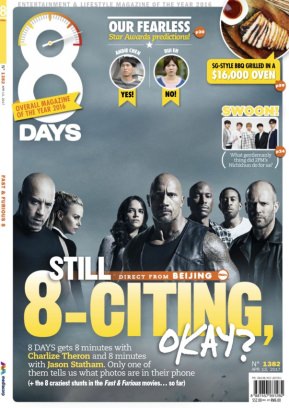 Our Fearless Star Awards Predictions!
Rui En – NO!
2. Scene & Heard Page 21
By Jocelyn Lee
"We can't deny how well Rui En played this role." — Industry Insider

Thank you! #ifonlyicould8 was…

Read more: https://t.co/ZaXLoouZ4z pic.twitter.com/u0LLiYkz15

— RBKD 瑞不可当 (@RBKD) April 9, 2017
RBKD: 8Days invited three anonymous industry insiders to predict the winners for this year's Star Awards. While these opinions are not indicative of the results in any manner, it makes us proud as fans to hear such affirmation of Rui En's acting from the insiders.
In their own words, the insiders are quoted as below:
Best Actress
Mediacorp Executive Producer: "Rui En. It's refreshing to see her play a frumpy auntie. It's a breakthrough for her 'cos she usually plays a career woman or a cute bubbly girl in her dramas."
Star Award-Winning Ch8 Actor: "Rui En. She put on so much weight for the role. She's a born actress and she is able to show a different side of herself with every different character. But, as you know, the ones we predict to win usually won't (laughs). That's always the case!"
Industry Watcher: "We can't deny how well Rui En played this role. Meanwhile, Jesseca's role in Hero is quite blah. You can cast almost any actress in it and it wouldn't differ much."
8 Days' Pick: Zoe Tay
RBKD: 8 Days said that their vote goes to Zoe for her touching role and also because it's about time for Ah Jie to win an award again after she last won it 21 years ago.
3. Advertorial Pages 50-51
Star Awards 2017 Nomination List
4. Advertorial Page 103
styleXstyle Star Awards 2017 Best Dressed Male and Female Celebrities poll
Categorised in 8 DAYS, EN, If Only I Could... 十年...你还好吗?, Star Awards, Star Awards 2017, styleXstyle.