16 August 2016 | 11:24 pm
《十年…你还好吗?》由瑞恩、黄俊雄、蔡琦慧、陈邦鋆等人主演。瑞恩饰演命运多舛的少妇,并首次接受挑战当"胖安娣",黄俊雄则扮演一名花心劈腿男,同时在生意和情感上不择手段。

每逢星期一至四,晚上9点30分,千万别错过《十年…你还好吗?》。

#ntv7 #channel107 #ntv7chinese #IfOnlyICould #十年你还好吗

Posted by ntv7 中文 on Tuesday, August 16, 2016
Categorised in CH, If Only I Could... 十年...你还好吗?, NTV7.
01 June 2015 | 04:48 pm
新加坡电视剧全面侵入马来西亚国土了?ntv7在6月份新启播的电视剧中,一半以上是新加坡电视剧咧。不过好剧不怕多也不怕看,管它是哪一国的剧,笑剧、悬疑剧、武侠爱情剧、青春励志剧抑或穿越剧,能上档的就是好剧。追剧一族,这个6月,我们追剧精神"拼"啦~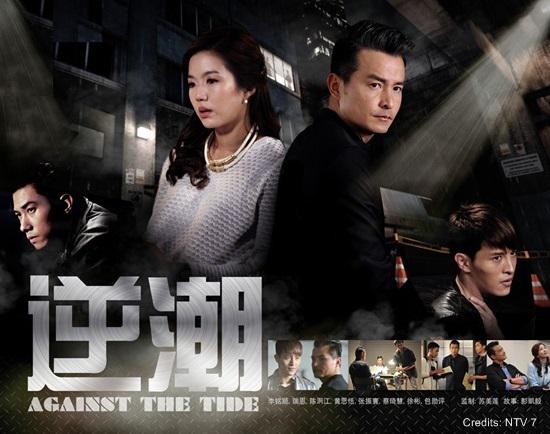 共长23集的侦探悬疑电视剧《逆潮》,是由金钟奖视帝李铭顺连同瑞恩、黄思恬、陈泂江及张振寰等主演。剧中人物各怀鬼胎,亦忠亦邪,而视帝李铭顺饰演愤世嫉俗的小说家,主要与饰演心理医生的瑞恩有很多的对手戏。喜欢瑞恩的剧迷务必留意,因为这可是瑞恩入行12年,首度演出大反派,对她来说绝对是演技大挑战,就是要剧迷们好看。
Source: NTV 7
Categorised in Against The Tide 逆潮, NTV7.
18 November 2014 | 06:12 pm
The Dream Makers 志在四方 will air on NTV7, 20 Nov, 930pm from Monday to Thursday.
Categorised in NTV7, The Dream Makers 志在四方.
26 June 2012 | 01:56 pm
NTV7 (Astro Ch 107, 6pm)
Source: The Star
Categorised in EN, NTV7, On The Fringe 边缘父子, The Star.
16 May 2012 | 09:35 pm
By Chew Wan Ying
Less is more – that was the approach taken by Singapore's MediaCorp stars Tay Ping Hui, Chen Liping, Elvin Ng and Rebecca Lim, when they were in Kuala Lumpur recently, along with Malaysian actor Wee Kheng Ming, to promote their drama series Unriddle 2.
Viewers in Singapore knew the twists of the show, however, as the 20-episode drama was shown there in March. It will be aired here on Ntv7 starting today.
Here's the skinny on the show: It is a follow-up to the popular 2010 crime thriller series starring Chen and fellow MediaCorp actress Rui En as an unlikely duo who team up to unravel a string of mysterious cases.
For the sequel, Rui En, Chen and Tay reprise their roles as CID officer Hu Xiao Man, informer Lin Zheng Yi (nicknamed Da Bao) and Xiao Man's boss Zhang Yu Ze respectively.
It's not easy for Tay filming the death scene.
"My character dies very tragically. It was such an emotional scene and this woman here," he said, pointing at his affable co-star Chen, and continued: "She started laughing and she just went on and on!
"You know she has an infectious laugh, right? So Rui En also started laughing, too. I was lying there and it got to an extent that I was like 'I don't want to die already!'," said Tay with mock frustration, with Chen, 46, laughing loudly by his side.
They sounded cheerful when they recalled the episode, but the shooting process was anything but. Due to the dark tone and heavy subject matters, Rui En was said to have been depressed at one point struggling to get out of her character.
It's not just the main characters that would make viewers hold on to their seats. Newcomers to the series, namely Rebecca Lim and Elvin Ng, also made an impression.
In what she described as her most challenging role in a Chinese drama series, Lim plays Xiao Man's junior in the university, a psychiatrist who plays a pivotal role in advancing the plot.
Different from his usual boy-next-door roles, Ng, 31, starts appearing in the eighth episode as Xiao Man's colleague, a cocky cop who is nicknamed Lang (wolf).
Like other characters, he's walking the fine line between good and evil, said Ng.
"He seems to have a love-hate relationship with Xiao Man. You'll never find out his true agendas until the very end. It's intriguing to watch," said the actor.
Source: The Star
Categorised in EN, NTV7, The Star, Unriddle 2 最火搭档 2, Unriddle 最火搭档.
16 May 2012 | 10:26 am
NTV7 (Astro Ch 107, 10pm)
Unriddle 2 – This gritty police drama is apparently so popular that it became the very first Singapore TV series to trend in Singapore on Twitter hours before the telecast of its pilot. Picking up from where the hit 2010 drama Unriddle left off, Unriddle 2 traces the lives of crime-fighting duo Lin Zheng Yi and Hu Xiao Man, who work together in the Criminal Investigation Department to solve a variety of perplexing cases.
Source: The Star
Categorised in NTV7, The Star, Unriddle 2 最火搭档 2, Unriddle 最火搭档.
05 October 2010 | 09:57 pm
续《血蝴蝶》精彩的落幕,我们会带给大家一部警匪剧–《最火搭档》!
饰演这部剧有2010年新加坡e乐大赏,e乐人气本地电视女演员瑞恩,还有特别为《最火搭档》瘦身改造的陈莉萍!除了这两位女演员之外,也有资深男演员郑斌辉、郑各评、陈泰铭等人演出,让这部剧显得更精彩。
瑞恩饰演一位带领下属破案的长官小曼,而在追踪一班人口贩运疑犯时认出正仪(陈莉萍饰)的背影。其实正仪是小曼的同事,雨泽长官(郑斌辉饰)安排到此人蛇集团当卧底的警官。小曼在调查几件谋杀案、身份盗窃案和失踪案后,发现其实一连串的案件背后隐藏着一段15年前的秘密。为了查出真相,小曼和正仪这对最火搭档决定合作,找出雨泽,找出真凶。
收视率受好评的《最火搭档》将在10月5日,每逢星期一至星期四晚上10点,全马首播!
p/s: 听说瑞恩在其中一幕拍摄受伤前,剧里的动作特技都是她请自上阵的哦!陈莉萍也成功突破以往的阿嫂形象,演出正仪这个角色!
After the much loved drama "Injustice", we're keeping the adrenaline rush with a crime investigation drama "Unriddle"!
On board "Unriddle" is 2010 Singapore Entertainment Awards' Most Popular TV Actress Rui En, and the all new edgy looking Chen Li Ping. Alongside these leading ladies are the charming actors Tay Ping Hui, Zheng Ge Ping, Rayson Tan and more, making the series all the more interesting to watch.
Rui En plays a serious, no-nonsense police detective called Xiaoman, who heads a police team of her own. While uncovering a case a human trafficking, she recognizes one of the suspects as Zhengyi (played by Chen Li Ping), but is unable to bring her to justice. Little did Xiaoman know that Zhengyi is actually an undercover policewoman, placed in the gang of human traffickers by fellow police detective Yuze (Tay Ping Hui).
As Xiaoman slowly delves into homicides, identity theft and missing peoples cases, she soon realizes that all these cases lead to an unsolved mystery dating back to 15 years. The unlikely pair Xiaoman and Zhengyi team up to unriddle the case involving Yuze, who seems to be the prime suspect of it all.
Garnering high ratings from Singapore viewers, "Unriddle" will be premiering in Malaysiafor the first time on 5th October 2010. The series will be aired every Monday to Thursday at 10pm!
p/s: Rui En was said to have done the stunts on her own until her injury from one of the filmed scenes prohibited her from doing so. Chen Li Ping also manages to break away from her old image and does a great job playing the tough cookie Zhengyi.
Source: NTV7
Categorised in EN, NTV7, Unriddle 最火搭档.