18 April 2017 | 03:29 pm
8Days #1383
1. Cover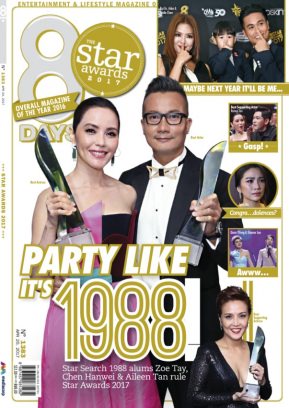 2. Star Awards 2017 Page 31
RBKD: There's small photo of Rui En with Andie & son pointing their finger on their noses, for the section on "Where was the love for Andie Chen?" Rui En was not mentioned.
3. Star Awards 2017 Fashion Police Page 33
Rui En
RBKD: 8 Days said that the twists and turns of Rui En's black and white Paule Ka gown presents some interesting optical illusions, making Rui En look like a svelte model from one angle and a curvy goddess in another.
Source: 8Days.sg
4. Star Awards 2017 What you didn't see on TV Page 38
RBKD: Same backstage shot which iweekly and Toggle took too. Caption's interesting though, as Rui En shot back cheekily at a reporter who asked to take a photo of her dress in her tee and shorts, "What? You mean in this lovely look?"
5. Advertorial Page 45
styleXstyle
Star Awards 2017 BEST DRESSED Celebrities
Who has impeccable style?
Categorised in 8 DAYS, EN, Star Awards.